Manufacturer: g.tec
Made in: Austria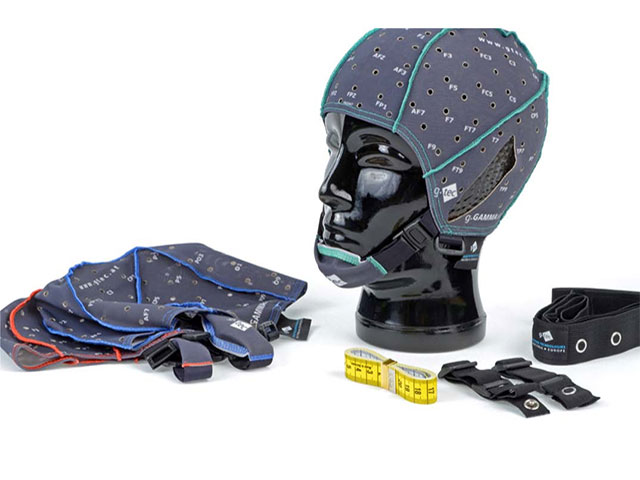 The second generation of g.GAMMAcap: new optimized cut for perfect fit, new highly flexible supernarrow seams for high-density electrode placement, 74 labeled standard positions (10-10 / extended 10-20 system) plus 86 additional intermediate positions, can now be used either with a chest belt set or with a chin strap that comes with each cap. Size M fits most adult subjects, but a cap set includes sizes S, M and L.
The g.GAMMAcap² can be configured with active electrodes for a certain experiment (such as the P300 speller), and the electrodes remain inside the cap even during cleaning. This allows a very fast preparation and cleaning procedure, which speeds up experiments considerably. A typical setup time for a P300 speller experiment (10 electrodes) is about 2 minutes – just put on the cap and inject the gel. After the cap is removed, the gel almost disappears after drying.
g.GAMMAsys was designed to increase the speed of EEG/ECG/EMG/EOG experimental setups, while still using a comfortable cap and a very high signal quality.
g.GAMMAsys includes different types of active and passive electrodes that can be mounted with the g.GAMMAcap² onto the head for EEG recordings or can be mounted on the body for ECG/EMG/EOG recordings.
Avoid or reduce artifacts from movements and electromagnetic interference
Fastest electrode montage for multi-channel recordings
System can be used with passive, active or dry electrodes
Single electrodes can be replaced easily
Electrodes remain in the cap for cleaning, which allows fast montage and cleaning
۷۴ standard + 86 intermediate positions; user can add positions freely
Kids' sizes (mini/midi/maxi) available