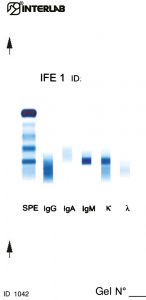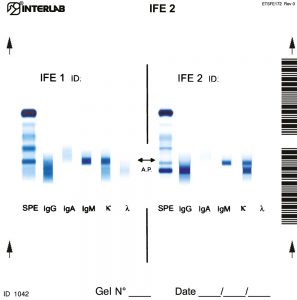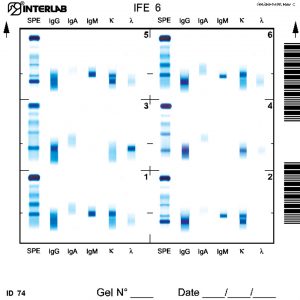 REF
DESCRIPTION
SAMPLES PER GEL
TEST PER KIT

SRE650K
SERUM AND CONCENTRATED URINE/CSF IMMUNOFIXATION ACID BLUE STAIN
1
10
SRE623K
2
20
SRE624K
4
40
SRE643K
6
60
The new Immunofixation Electrophoresis (IFE) are intended to be used for qualitative immunological identification of monoclonal components in human serum and in concentrated urines. No sample dilution is required! Thanks to the new Easy Interlab 26 & Pretty Interlab the Immunofixation procedure is extremely fast and user friendly and in just 43 minutes the first gel results is completed. The kits have been designed for use with the fully automated instruments Easy Interlab G26 & Pretty Interlab.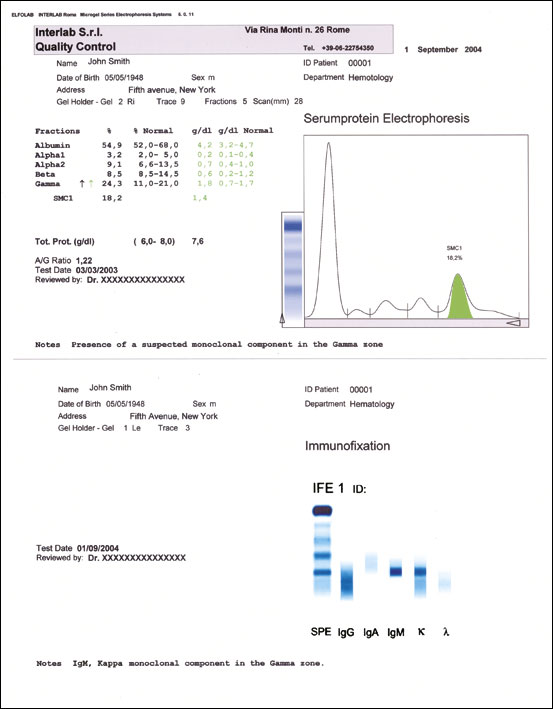 Reagent Preparation:
All reagents ready to use except the washing solution to be diluted 50ml to a final volume of 1L with distilled water.
Sample Preparation:
Neat serum samples. Concentrated urines to a final total protein value of about 5 g/L.
Sample Storage & Stability:
Serum: 1 week at 2 to 8 °C Urine/CSF: 1 week at 2 to 8 °C, and 1 month at – ۲۰°C
Monoclonal immunoglobulins are due to malignancies of B lymphocyte origin. The principle of immunofixation electrophoresis is based on the visualization of specific proteins through antigen-antibody precipitation, following protein separation by electrophoresis. Patient specimens are placed into the sample wells and the major protein groups are then separated by electrophoresis.
For each Immunofixation sample six patterns are obtained on the gel plate. One pattern is treated with a fixative solution to create a serum proteins electrophoresis (SPE) reference pattern.
Antisera with specificities for the heavy chains, anti gamma (IgG), anti alpha (IgA), anti mu (IgM) and for the light chains κ and λ (free and bound) are applied on the other five patterns.