Manufacturer: g.tec
Made in: Austria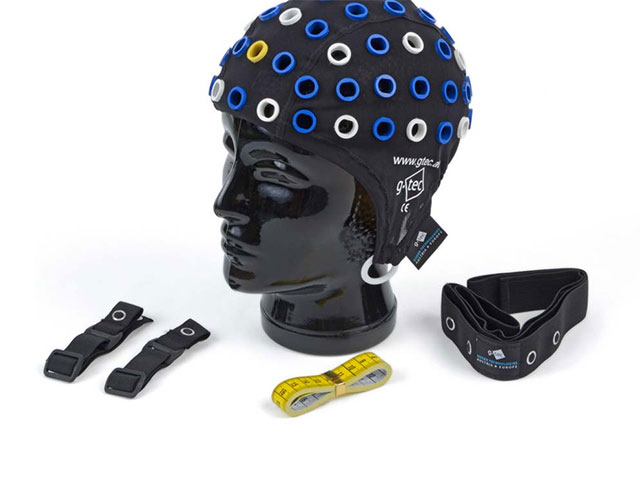 The g.EEGcap system has a long history. It was invented about 20 years ago and is used in hundreds of labs worldwide. In research, it is very popular due to its unique mechanism and robust design. A big advantage of the cap is that it uses individual electrodes for maximum electrode montage flexibility. With g.EEGcap, it is easy to configure new experimental setups, and the cap will always allow you to place each electrode where you need it.
The g.EEGcap has 65 electrodes positions and has bayonet sockets to adjust the distance between the electrode and the skin for optimal impedance values. This also guarantees that the electrodes system works perfectly for different head shapes and different hair styles. The 12-mm openings provide excellent access to the skin for perfect skin preparation with abrasive gel and ultra-low impedance recordings. The gel is applied to the skin before the electrode is inserted. After the measurement, the electrodes are removed. Gold and Ag/AgCl electrodes are available as well as active sintered electrodes to be used with the g.GAMMAsys active electrode system.
The caps are available in sizes S (50 – 54 cm), M (54 – 58 cm) and L (58 – 62) where the L-sized cap fits at least 80 % of adult subjects. Other sizes, plain caps without electrode sockets and customized electrode positions are available on request.
Each cap comes with a fixation belt set (chest belt) and a measuring tape for correct cap placement.
robust design and unique screw-lock electrode montage
maximum flexibility due to single electrodes
adjustable distance between the electrode and the skin
active and passive electrodes can be used
easy access to the skin for perfect skin preparation
extended 10-20 system
additional electrode positions are possible